Join us in singing:
Happy birthday to you
Happy birthday to you
Happy birthday to CLIMB…and many more after four!
We are so pleased to share that CLIMB celebrated its FOURTH (4th) birthday this month. We can't believe how fast the time has flown?! The saying is true that time flies when you are having fun because we are certainly doing that — all while making a difference in the lives of the men and women with intellectual or developmental disabilities in Senatobia and the surrounding area!
We are so thankful for the opportunity to serve these men and women and their families through the Day Services-Adult program, as well as the residential programs. What a blessing CLIMB has been these past four years and will continue to be – we hope and pray – for many more years into the future!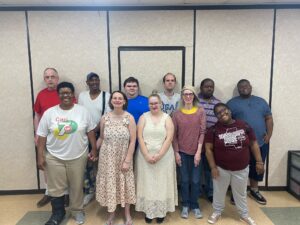 Is it really even a birthday party if you didn't take a silly photo?! 😉