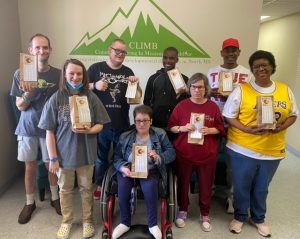 CLIMB participates in Senatobia Library Scavenger Hunt
In the month of April, participants of CLIMB's Day Services-Adult program participated in an interactive Scavenger Hunt for bears around town which was created by the Senatobia Public Library.
The Library offered a map with locations on it where the group would go to find a bear then scan the barcode on the poster. Some of the locations around town included City Hall, the Senatobia Police Station, the Chamber of Commerce, Broken Cup Coffee Shop, and other popular stores and businesses.
When the bar code was scanned at each location, a website or YouTube video launched with a central theme: famous bears. Through these websites and videos, participants learned about that particular bear, such as Smokey the Bear, Berenstain Bears, Care Bears, and popular bears from TV shows and movies.
At each stop, we wrote the name of the famous bear on our map. Once the group found all of the different bear barcode stations around the city, we returned with our map to the Library, where all of the participants received a prize bag.
What a fun way to learn about famous bears, get a bit of exercise and fresh air, and enjoy time navigating our community!
CLIMB participants absolutely loved walking around the downtown City of Senatobia to find the different bar code stations, learning about the different bears, and of course, earning a prize.